El Conjugator for tablet and smartphone
| | | |
| --- | --- | --- |
| iPhone/iPad | Android | Windows Phone |
| | | |
El Conjugador on computer
| | |
| --- | --- |
| Mac | Windows |
| | |
Software
El Conjugador is also available apart from the Web site by a software which you can install on your PC or Mac. This software is a shareware what means that you can test the full version during 30 days before buying it.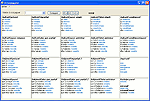 Download Windows (650 kb) | Mac App Store | Mac (1.3 Mo) | Buy software
iPhone/iPod/iPad | Android
If the software requires dotnet package from Microsoft, click here to download it (23 mb).
---
Home | Software | Numbers | Website | Mobile | Contact
---
Copyright @ Brewalan Le Drű 2006-2013